by Deacon Jay Albert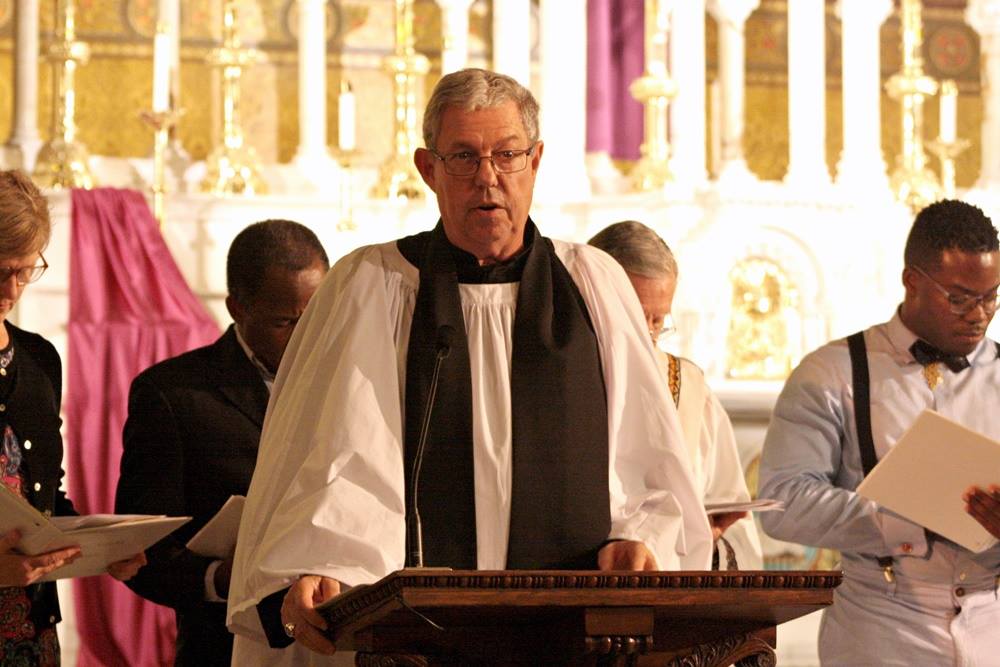 While serving at St. Paul's Episcopal Church in Lakeview, New Orleans, as my first assignment, I looked for an outreach program that would involve the laity. I wanted a program that they could get behind and that was centered on their commitment to serving the marginalized.

While at a deacon's conference at Solomon Center, Deacon Priscilla Maumus invited a Sr. Vera Butler, who served at the Lateran Light Ministry in New Orleans to speak. Sr. Vera gave a brief history of how they came to New Orleans from New York after Katrina to help feed the poor living on the streets in New Orleans. I called Sr. Vera and asked how I could help with this ministry. She invited me to come help with the food distribution one day. I arrived at 11:30 in the morning and she gave me a brief tour of the modest facility and explained how this feeding works each day. Volunteers are assigned each weekday to bring food, usually sandwiches prepared in a prescribed way, to be placed in bags with chips, snacks, and a napkin and then put on large trays to be distributed at the appropriate time.

I assisted with amazement at how they fed 175 people a bag lunch, a cup of tea or water, and a delicious pastry that was donated each day from local bakeries. This all happened within 20 minutes. Almost every person that stood in line to receive food, thanked and blessed each one of us for helping feed them that day.
I knew this would be the ministry that would work for our church. With exuberance, I returned to church and spoke with many parishioners about this ministry. I explained that we would get one day a month as-signed to our parish to provide sandwiches for lunch and during announcements the week before, I explained the ministry and ask anyone who can to buy a loaf of bread and make sandwiches and bring them to the church the morning of our assigned day. I asked them to invite their children to help and invite their neighbors to assist as they can with this.
The first day came and we had almost 300 sandwiches at the church and about 6 people who wanted to come help distribute them. I was so excited. We got there early and while the parishioners assembled the bags of food and cups of drink, I mingled in the courtyard with the clients who were waiting to get some food. At first, the clients just looked at me wearing a collar and walking around and didn't say much. I approached some with greetings and tried to engage in some conversation. Slowly a few opened up about how they were shunned at a church somewhere or asked to leave when they were asking for some help or food.
I realized they had had some bad experiences with churches and apologized for that and offered some consolation as best I could. After a little more time, some asked me if I could help them find a job, some asked for a prayer that they could get a job and get off the street and go back to supporting themselves and their families. I was so touched.
Not one asked for a handout, only a way off the streets. I went inside to help distribute the food. I watched the people coming up to the distribution window, they were people from all walks of life including a few women with children. They were all grateful and their faces said it all. The clients sat in the courtyard and ate their lunches and left to return to the streets. This whole process took place in a 2-hour time frame and we too went back to our lives.
After that first trip from our church, the people who participated all wanted to come back each month and as others heard about it, they too wanted to join us. We could only bring about 8-10 people due to the space limitations and so I had to rotate volunteers so that others could also get to help with this ministry.
I am no longer assigned to that parish, but that ministry went on for many years after I left. This was one of the precious opportunities that God allowed me to be a part of and I am forever grateful for it.