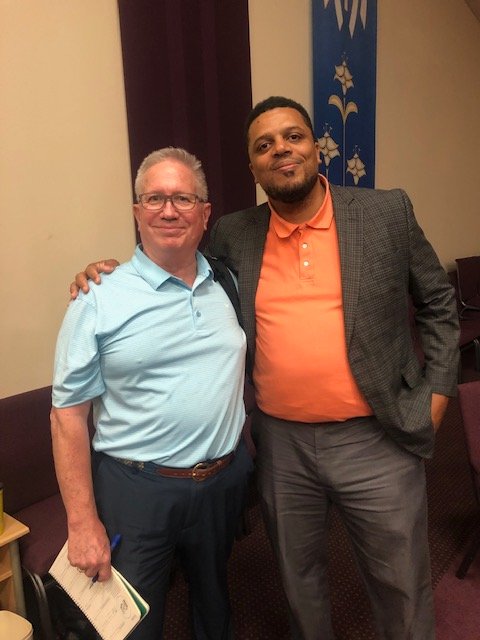 by Lester Mut, a seminarian for the diaconate; St. Margaret's, Baton Rouge
One of our seminarians for the diaconate, Lester Mut, has partnered with Together Baton Rouge to work towards a community-based solution to end the violence in Baton Rouge. This ministry is part of his second-year curriculum for the A.C. Marble School for Theological Education. His task is to engage a supervised project in a social ministry outside the parish that the postulant is attending.

Together Baton Rouge is a broad-based coalition of congregations and community-based organizations in the Greater Baton Rouge area, with the capacity to address community problems large and small. TBR is deliberate about crossing the lines of race, religion, neighborhood, and political affiliation. It organizes to build the power to address issues affecting families and communities, and is a strictly non-partisan organization.

Specifically, Les has signed on to the Public Safety Campaign 2022 and has already participated in an Enough is Enough: Public Safety House Meeting recently conducted at the Greater Sixty Aid Baptist Church in Baton Rouge. The purpose of the campaign is to engage the community in order to listen to the stories about how violence has impacted their families and to identify solutions that can be organized around.

East Baton Rouge Parish has seen back-to-back years with record-breaking murder rates. In 2020, Baton Rouge saw 136 murders, followed by 170 murders in 2021. So far in 2022, there have been 62 murders (5/31 EBR Coroner's Office). Baton Rouge families don't have to read the paper to know the impact of these realities, but they have yet to be at the center of finding solutions.

Les plans to meet with community members to offer support and discover how his parish can be more involved. Sparked by the causes of Together Baton Rouge, Les intends to continue working with the organization even though his summer project ends in August. Les is sponsored by St. Margaret's Episcopal Church in Baton Rouge where he and his husband Joe are actively involved in various ministries.