by Kristen Wheeler, Christ Church, Slidell, and founder of Holy Hounds Ministry
Who is Angela Basset?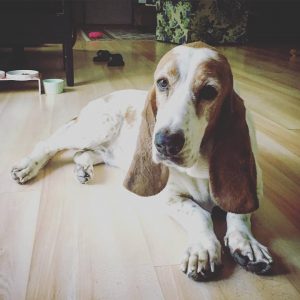 Angela Basset is a therapy dog who is trained to provide affection, comfort, and healing love to those around her. Whether you are in a hospital, retirement or nursing home, hospice, school, church, disaster area, workplace, or even at home, Angela Basset brings smiles wherever she goes. She is certified through Alliance of Therapy Dogs and in the year she has been a therapy pup, has already logged nearly 60 hours of volunteer time at eldercare and memory care facilities, bookstores for reading time with kids and adults, hospitals, public events, and many Episcopal churches throughout our diocese. Therapy dogs are about sharing smiles and joy in the world (which we could use a lot more of couldn't we?) and we are sure our favorite Basset Hound will bring an abundance of joy with her long, floppy ears and sweet demeanor.
Angela shares her home with two beautiful Russian Blue kitties named Toy and Ivy who are indifferent about her presence, as well as a Beta fish she never sees or cares about (rude) named Edgar. She's the worst guard dog I've ever seen (good thing we didn't need one) and will fall at everyone's feet that she meets regardless of their smell. She constantly approaches strangers even though I've warned her not everyone likes dogs or strangers. She loves to point at the bunnies that live in our front yard and pretend like she's rallying her hare-hunting ancestors. She can't jump to save her life, but she can run super-fast (trust me, I'm no runner). Her ears are long and flap up and down when she runs, I swear they act like wings and make her run faster. Her ears also get in the way of everyday life; like drinking water and sniffing the ground (she falls down), which is why she probably looks so miserable all the time like every other basset hound in the history of the universe.
We take her to the groomers on a regular basis to get rid of that "hound smell", but she has a love/hate relationship with her groomer; she loves the attention but hates the blow dryer. We encourage people not to eat anything that smells like peanut butter or great smelling food in general around her, as she doesn't know that she's a dog and can't eat everything. She will do anything for a piece of cheese though, you can only eat cheese in our house if you share it with her (we told her that is what we call "compromise"). She loves non-rawhide bones and acts like a puppy when she has one, not the ten-year-old she actually is. She doesn't bark, but she does make crying noises; don't let it fool you though, it's usually because there is peanut butter or cheese nearby, but also when she sees or hears someone coming to visit our house to obviously see JUST her. My husband says that her sense of time is severely handicapped; if one or both of us is gone for an hour, she thinks it's been 3 days and acts accordingly. Angela's favorite activity is riding in the car because she knows she's going somewhere fun, but she can sleep until she gets there (wait, maybe that's why I like riding in the car too!).
She loves going to church service and puts her paws on the knee rest to wait for her blessing at communion. When she attends St. Francis Pet Blessings, she knows exactly what's happening and always thanks the priest by resting her head in their arm and looking softly into their eyes, Mother Gina Jenkins is her favorite (sorry Harry!).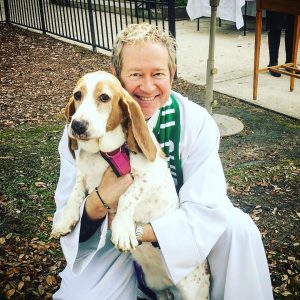 She does yoga with me every day, but only does two moves: downdog and updog, always in the same order. She slaps her tail really hard on the floor when she's happy and my husband tries to get her to time it with a song (it never works out). It all sounds nice in theory, but Angela really is a terrible roommate; she snores loudly, she's easily offended when you don't give her enough attention, she leaves the room if she's annoyed by whatever you're watching on Netflix, instead of letting me know she needs food she eats the cats food or helps herself to the "treats" in the litterbox, and sometimes she misses the grass and poops on the driveway (I usually wait for it to dry out and use the leaf blower to blow it in the woods so I don't have to touch it, true story). She's extremely offended by people who don't like dogs (me too, Angela, me too) and will risk everything to make sure they like her in the end (usually to her favor of course). It's really a good thing she's cute and we get along pretty well, otherwise, I'd have to kick her out.
What is a therapy dog? 
Therapy dogs are NOT service dogs or emotional support animals, although we like to think of them that way because of their healing qualities. Some service and/or emotional support animals are also therapy dogs, it just depends on their role, their handlers and owners, and what jobs they need to perform on a regular basis etc. Service animals are highly trained to provide a service and learn specific tasks to aid those who are handicap in mind and/or body, such as a dog leading a blind person or retrieving items for a physically handicap person. Emotional support animals are generally not highly trained, but many people with mental disabilities or ailments find comfort in their company. Emotional support animals can be exempted from certain federal housing and travel rules as a result. A therapy dog, however, is trained to provide love and affection to those in need and can have access to certain areas that many other pets cannot because of the testing and canine good citizenship qualifications; such as schools and hospitals. Therapy dogs have gone through a number of tests to ensure their ability to block distractions (including loud noises and food), be comfortable around those with physical disabilities, walk through many different terrains, know commands from their handler and pay attention, be comfortable around other dogs, animals, and humans of all ages, not have excessive barking issues, be in good health, and undergo an extensive health exam. Therapy dogs provide a therapeutic and psychological benefit to many people, some researchers say they even provide academic and cognitive benefits as well.
What inspired you to become a therapy dog team?
Over four years ago my boxer, Dizzi, passed away. She was my sidekick and confidant and we did everything together. At the advice of our veterinarian at the time, I took her to be tested as a therapy dog. But her barking got the better of her after being surrounded by too many dogs in one room and we were asked to leave. Shortly after our disappointing experience, Dizzi was diagnosed with cancer and never recovered. She brought so many smiles and so much love everywhere she went, I knew she was a therapy dog to me even though she didn't have the paperwork to prove it. She peacefully passed away in our arms in March of 2015, and as she left I asked her and God to help us find another dog when it was the right time and that they may continue her legacy of love and become a certified therapy dog. Her death stung for a very long time and it wasn't until last year that the right dog came into our lives.
We weren't looking for another dog, in fact, my husband was pretty against it, but one day I was on Facebook and saw a post by Father Bill from Christ Church Covington with a picture of the saddest basset hound I've ever seen and said she was looking for a home. I saw her picture and I said "oh my God! That's MY dog!" I had no rhyme or reason to believe that, but somehow, I just knew. I met her the same day, she came home for a "test week" shortly after, and well, you see how that turned out. I knew within that first week that she was going to be a therapy dog. I did the research and found Alliance of Therapy Dogs and started contacting them with questions and information. Once Angela had lived with us for three months (the minimum time a dog must be with you before you can test with them), we set up her testing and she passed with flying colors! The rest, as they say, is history.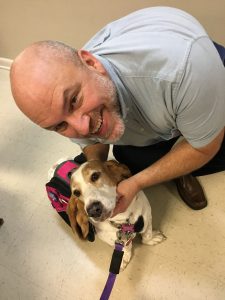 Why Holy Hounds? How will this help the church? 
Angela really came to me at the most pivotal part of my life, when I was knee deep in the discernment process. She almost instantly became my ministry and I knew God (and Dizzi) brought her to me at the perfect time. My vision for Holy Hounds (website coming soon!) is that we will eventually have an entire team of therapy dogs and handlers throughout our diocese and beyond.
Right now, we are focused on pastoral care in our home church and visiting individual churches within our diocese to share her unconditional love. Angela, along with other therapy dogs like her, have a healing presence about them; they can calm the fearful, instill joy in the lonely, provide a healing spirit to the sick and infirmed, and bring bright smiles wherever she goes. Whether you're surrounded by the comfortability of your own church or home, everyone can use a smile and some healing love!
God created our dear Angela Basset not only as a new sidekick for me, but as a conduit of healing love and undying affections to all those in need of it. She has a way of seeking out those who need kindness and love the most: We were visiting Christ Episcopal Church Covington back in March and there was a large crowd gathered. A toddler near the back of the church began crying and the parents were quick to remove her from the scene. I looked back at them and gestured to Angela, who was already panting and pulling in the child's direction and welcomed them to bring her over. The little girl immediately stopped crying when she stroked Angela's soft ears and laughed when the sweetest basset hound reached up to lick the tip of her nose and cleared the salty tears away from her face. Angela has done this for me in many ways in the short time we've been blessed by her presence. I looked back at the parents and the rest of the congregation staring in awe as the little girl sat in the middle of the aisle playing with Angela, and my heart was filled with so much joy knowing that we were doing exactly what God wanted us to do in that moment.
These moments may sound insignificant to some, but for many who need the attention and listening heart, a therapy dog can heal the soul. I find that people come to church for healing of all kinds, so why not have a furry companion there to remind us of the love that already exists. I hope that Holy Hounds catches on and spreads love across the Episcopal Church.
Where has Angela visited in our diocese and how can I schedule her to come to our church or event?
Angela has visited the following churches and events in our diocese, and in some cases on more than one occasion:
Christ Episcopal Church Slidell
Christ Episcopal Church Covington
Chapel of the Holy Spirit New Orleans
St. Margaret's Baton Rouge
Scheduled in November to visit St. Anna's New Orleans
2018 Stepping Stones Retreat Series
EDOLA office
Pet blessings at CECS and CECC
Angela also attended all of my discernment meetings and is an honorary member of the committee
Angela has made many home visits for pastoral and friendship care, as well as many Northshore and New Orleans businesses that love to have her for visits!
You can schedule/discuss a visit with Angela at your own church or event by emailing Kristen: kristen@khphotographics.com. We are a therapy team and volunteer our time and resources for the greater good in God's world!  
Fun Facts
Thanks to a lead from Father Rob at St. Paul's Lakeview, Angela was hired to be in a commercial for Posigen Solar Solutions that aired in Louisiana, Connecticut, and New Jersey called "the dog days of summer" and she was a star! She had her very own cheese platter and listened to every command and looked at the camera every time it was in front of her (because they gave her cheese, duh!). She laid on a raft in a pool and wore a Hawaiian shirt. They even made an illustration of her for National Dog Day. Check out her commercial HERE: https://www.youtube.com/watch?v=ymJW1cHtRyM&feature=youtu.be&fbclid=IwAR1gFV3O6kGSBhSeD2anXxB_mlEH6qnkxrAcJ-fdtIUkju-P7cz8qo1XWrQ
The brown patch on Angela's butt is in the shape of a fleur de lis. The night before Dizzi passed away, I took her for a walk to the church around the block from our house where we stopped to pray. I noticed a shadow cast on her side from the top of the fence surrounding us, a fleur de lis. Several months after she passed and before we moved to Louisiana, I got a tattoo of a fleur de lis on my wrist to not only represent our pending move, but also those last moments I had with Dizzi.
For the better part of four years, I have been writing a book about Dizzi that will now include Angela as well. It's called "I Love You More Than Grilled Cheese Sandwiches"