Churchwork reflection by Meg Kendrick, assistant to the flood recovery coordinator
From August 13 through the 15, Louisiana was inundated with rain – up to 4 trillion gallons of water fell during this period. This equates to filling over 6 million Olympic sized swimming pools! There was no warning or name for the storm that caused flood waters to rise to the tune of an estimated 146,000 damaged homes, the dislocation of thousands of people and billions of dollars in damages to property throughout Louisiana. Many of our parishioners in our diocese as well as churches such as St. Francis, Denham Springs, and St. Patrick's, Zachary, experienced damage and loss of their homes, businesses, and worship spaces.
In response to the devastating flooding, our diocese quickly organized a systematic response to help serve those affected. This response included shelter work at places such as Celtic Studios, emergency response, and the organization of volunteer teams from both in Louisiana and out of state. We also provided emergency housing assistance and counseling services to ensure that we were caring for the mental and spiritual health of those affected by the flood waters.
This systematic response grew into a formalized long-term flood recovery effort that continued over the course of the next year. The diocesan team wrote several grants to Episcopal Relief & Development for both the initial emergency response and long-term recovery. The Episcopal Relief & Development grants totaled $540,000 and helped to serve over 167 families, consisting of over 446 individuals. The grants served to help individuals rebuild their homes from insulation to flooring, replace lost appliances and furniture, as well as replace lost income. Our goal was to help our families get one step closer to recovery and a new sense of normal. Through word of mouth and referrals we began to meet numerous clients throughout the flood affected areas. We met with families from St. Francisville to Baton Rouge, Denham Springs to St. Amant, all struggling to rebuild and recover. In St. Amant, we met multiple members of one family all living on the same street. Each family member from the mother to her two sons and grandson received over four feet of water in their homes. Through the grant programs supported by Episcopal Relief & Development, we aided each family with their different needs. One of them received new furniture to replace what was lost, the other used their small grant funding to replace their air conditioning unit that was fried by the flood waters. Another used their grant award to purchase sheetrock, insulation, mud tape and nails. While many of the stories we heard through our interviews and meetings with clients were similar, the flexibility of the grant programs allowed us to meet each individual family's need. The grants and the flexibility from Episcopal Relief & Development ensured that we were meeting direct client needs.
Bishop Thompson also contributed generously to the flood recovery efforts through the Bishop Fund Grants providing $120,000 for recovery. These grants assisted families with emergency housing, rental assistance, furniture and appliance replacement, household start up income and as well as lost income replacement. The generosity of our bishop helped many families to keep their homes or provide a new rental home for their family after losing their rental home to the flood damage.
One such family who received assistance from the Bishop's Fund was a young single mother and her 5-year-old son who were struggling to find a reliable contractor to finish her home. The client had inherited the home from her father who had passed away but could not find a contractor within her price range that would complete the work. She feared that she would lose the home her father had passed down to her. At the time we met her, the client had found a contractor who failed to rip out parts of the ceiling that had received water damage and thus began to mold. This caused the mold to spread to the walls that he had just replaced forcing our client to start all over. Through the Bishop's fund, we helped this young mother and her son by helping to pay for a reliable, honest contractor who redid the previous work and completed the work in a timely manner for a reasonable price. With the aid of the Bishop's Fund, our client moved back into her home within a few months of hiring the new contractor and could finally provide a sense of normalcy and routine for her young son.
The flood recovery program was managed through the flood recovery coordinator, the Very Reverend Dr. Roman Roldan, myself as the assistant to the recovery coordinator, along with the assistance of the Reverend Dr. Peter Kang. Together, we interviewed each and every client that received a grant from either the Episcopal Relief & Development grant programs or the Bishop's Fund. We then met the clients to purchase materials, appliances, and/or furniture. We toured homes inspecting damage, worked with the homeowners and renters to determine the best use of their funds and prayed with and for our clients as they recovered. We kept detailed records and spreadsheets tracking the grant data and allocation to ensure that we were being as transparent as possible and to ensure the accuracy of all grant reporting to Episcopal Relief & Development, the Bishop's office and the diocese's Executive Board. During the yearlong recovery effort, we also served the volunteer teams to ensure that the teams had everything they needed to complete their work efficiently and effectively. This included shopping trips for more supplies, fixing and maintaining shower trailers, organizing meals and prepping sleeping areas. We tried to ensure that one of us was there at the end of each day during a volunteer team's trip to do check-ins and share a meal with them. We wrote endless thank you letters to people who donated funds, food and time to the flood recovery effort.
Many of the families served through the Episcopal Relief & Development as well as the Bishop Fund's grants were already struggling to make ends meet prior to the floods. With the rise of the flood waters they were pushed over the brink of disaster and were lost at where to start. Through the volunteer program initiated by our diocese as well as numerous churches organizing their own volunteer groups – we guided some of these families from gutting their homes, salvaging beloved family treasures that could be saved, mold abatement and then through the rebuilding process.
Volunteers joined the effort by registering on the diocesan website created by the Karen Mackey. Trinity Church, New Orleans; the Church of the Annunciation, New Orleans; St. Luke's, Baton Rouge; and Grace Church graciously opened their doors to provide non-local volunteers with a place to rest their head after serving. St. Anna's, New Orleans, and St. Paul's, New Orleans, provided tools along with volunteers. These church congregations also served the volunteers through donating lunches and suppers.
The volunteer response was awe-inspiring and included numerous volunteer teams from within the borders of our great state; many of our diocese church communities as well as outside organizations such as University of New Orleans and Together Baton Rouge sent teams to help muck, gut, and serve the flooded areas. Teams also traveled from beyond our state borders, hailing from places such as Rhodes College in Memphis, Tennessee; St. John's Episcopal Church in Murray, Kentucky; St. Mark's Episcopal Church in Gulfport, Mississippi; St. Michael's in Battleboro, Vermont; Grace Church Cathedral in Charleston, South Carolina; Franklin and Marshall College in Lancaster, Pennsylvania; Christ Episcopal Church in Cedar Rapids, Iowa; Emmanuel Episcopal Church in San Angelo, Texas; Trinity Wall Street in New York, New York; St. Francis of Assisi in Indian Springs, Alabama; and the Diocese of Missouri in St. Louis, Missouri.
Since the flooding, our diocese has supported over two hundred volunteers to serve and minister to their neighbors. The team from Franklin & Marshall College included 22 college age students serving in their Catastrophic Relief Alliance club. They have traveled to Louisiana five times previously to serve in areas affected by Hurricane Katrina. Their trip back to Louisiana in January was the first time they served in the Baton Rouge capital area. The 22 students along with their three intrepid adult advisors worked in three homes to insulate, sheetrock, mud and tape the homes. The homeowners were in awe of the work ethic and skills of the students. Upon their return to Lancaster, we received a thank you note along with a request to help them find a similar location in the future – they just couldn't get enough of Baton Rouge, its people and serving those most in need.
The flood program was also supported by churches and dioceses across the country. The Episcopal Diocese of Texas donated a four-stall shower trailer that served volunteer groups staying at St. Luke's and Grace Church. The Episcopal Diocese of Alabama also donated a two-stall shower trailer that served volunteers staying at Grace Church. Both these shower trailers washed away the hard work and sweat of 73 volunteers in 2017 alone. The Diocese of Mississippi and St. Peter's by the Sea in Gulfport, Mississippi, donated two tool trailers complete with tools to help the gutting and rebuilding process.  Volunteers from all over the country used tools from these two generous places to gut and rebuild homes.
The works and recovery efforts could not have been accomplished without the help of the numerous people across our diocese. Christopher Speed, Canon Shannon Manning and Deacon Elaine Clements provided invaluable support through their guidance and availability in serving the recovery process. And finally, we could not have done any of this without the support of our Bishop, Morris K. Thompson, Jr. and the team at Episcopal Relief & Development. We give praise and thanks for all those who served the recovery efforts and pray for all families and people affected by the flood waters. May God continue to watch over them and guide them. Amen!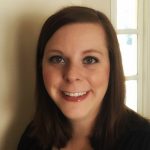 Meg Kendrick has served as the assistant to the flood recovery coordinator since 2016. She also serves as the family ministry coordinator at Grace Church, St. Francisville.
Download the September 2017 Churchwork