by the Rev. Christopher Golding, Associate Priest, St. Luke's Church and School, Baton Rouge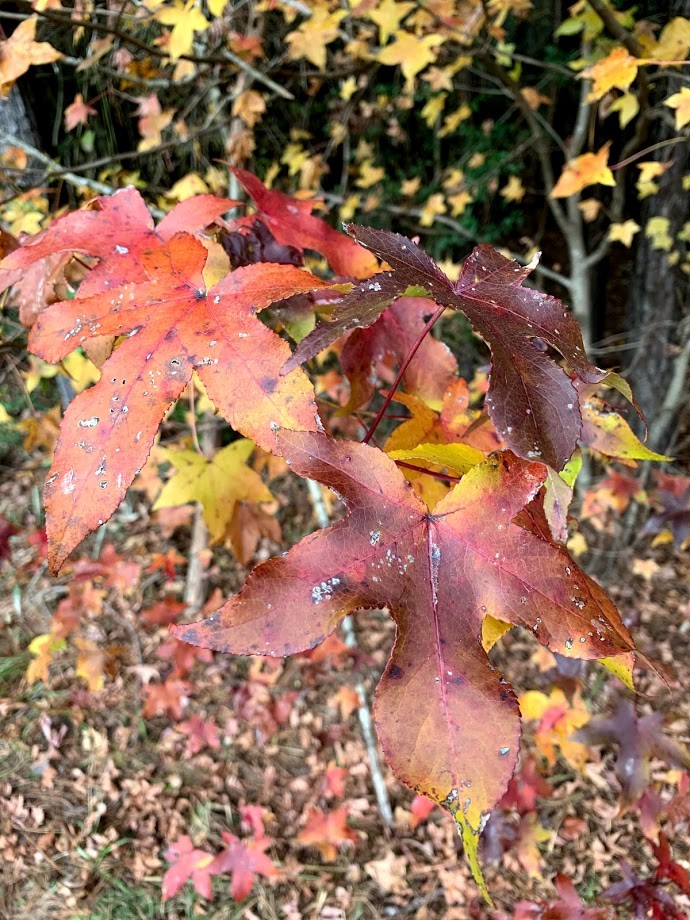 Recently, I had a chance to take an overnight retreat at the Solomon Center, our diocesan conference center. As I walked along the lake, I happily snapped a few photos of the shifting colors of the season. This time of Advent happily occurs at a time of color and change for us in Louisiana. The leaves are still transforming and falling; the weather softening and cooling.
The Solomon Center is a perfect place to take some time out — either for a day or overnight — to reflect on God's beautiful but ever-changing creation; and our place in it. The Center is also a place where I get to enjoy God's bountiful gifts through food! Cook Jeff and the Solomon Center team always do an amazing job in catering for me — a vegan — providing protein-rich, healthy meals every visit.
Wylie Kellermann wrote in Seasons of Faith and Conscience that "The church year, in both its contemplative aspect and its public enactment, may become a counter-culture rhythm, the different drummer, the recaller, the invoker of a world not yet seen, a subversive agenda for our collective hearts." One of the ways we can enter into the subversive agenda of Advent is to take heed of the knowledge — now widely recognized and accepted — that what we eat makes a real difference when it comes to creation care. This fact is particularly evident when we consume meat products which are mass produced through the raising of animals in feedlots and factory farms.
Could a new contemplative aspect of Advent this year be a new-found engagement in "meatless Mondays"? Could we drum a different tune this Advent by rediscovering the wisdom of "fish on Fridays"? Changing what we eat this Advent, even in a modest way, may lead us to find new color, new patterns, new creativity in life — simply through inviting gentle change into our regular routine.
Taking up something new like regular meatless meals this season is easy when beautiful, hospitable spaces like the Solomon Center exist in our world. But we don't necessarily have to travel outside the home to take up something fresh. With a little encouragement from your friends and family (and some quick Google searches for vegan or vegetarian options online) it might be surprisingly easy to do in your own everyday life as well! In this way, we might be able to take some time out — just by eating in. And realize, through the gift of food, that the Advent of love, joy, peace, and hope can be found – one bite at a time.
This is a series of Advent reflections written by members of the Environmental Commission of the Episcopal Diocese of Louisiana. Learn more about the Environmental Commission here.