Dear sisters and brothers in Christ,
I am sharing with you the work of our churches and my staff in responding to the devastating floods that ravaged parts of our diocese this week. I am very proud of you and the work you are doing in God's name to serve those whose lives have been turned upside down.
I spent some time visiting St. Francis, Denham Springs, and Episcopal School of Baton Rouge. Remarkably, this is the extent of the flooding of our churches and schools. My staff and I are committed to doing all we can do to make them whole again. At St. Patrick's, Zachary, water came within inches of flooding the buildings. I spent some time with them as well.
The cleanup of classrooms is underway at Episcopal School and classes will start on August 22. Long-term recovery will include the restoration of the athletic facilities.
The recovery of St. Francis will take some time, but they were insured. Our thoughts are with the parishioners, as well as all parishioners throughout the diocese, who flooded and are facing the task of rebuilding.
Our first priority for St. Francis was securing a place for the community to worship this Sunday. We are pleased to announce that the Diocese of Texas has loaned us a tent, chairs, and other items that will allow St. Francis to worship on their own grounds.
May peace be with you as you carry on this important work. Please take note that the Rev. Mark Holland is serving as the Diocesan Flood Response Coordinator. Our diocese is in capable hands as we move forward through the recovery phase. Mark can be reached by email at mholland@edola.org
Peace,
The Rt. Rev. Morris K. Thompson, Jr.
Bishop of Louisiana
To make a donation to flood relief
Episcopal Relief and Development US Disaster Program:
http://www.episcopalrelief.org/us-disaster-fund-page/?ID=LB16-3
Bishop's Professional Fund for Flood Relief:
https://secure.acceptiva.com/?cst=cb3761
Diocesan Recovery Efforts
Clergy was contacted to assure safety and to notify of the implementation of post-disaster conference call on Monday, August 15.
Conference call with almost 100% of clergy in attendance.
The Rev. Mark Holland volunteered and was appointed the Diocesan Flood Response Coordinator. Email mholland@edola.org.
Mark Holland is compiling a list of resources and needs. By Monday, August 22, he will begin to deploy assets for response to identified needs.
Emergency grant to Episcopal Relief and Development was written and $20,000 awarded to be used for emergency needs of the most vulnerable.
Acceptiva page for flood donations was set up on the diocesan website and is accepting donations. https://secure.acceptiva.com/?cst=cb3761
A page has been set up on the diocesan website to amass post-flood resources for congregations and flood survivors.
Social media campaign underway to highlight the work of the churches in assisting in flood relief, education and information on the flooding, and fundraising.
Worked extensively with Episcopal Relief and Development to launch a national public campaign for Gulf Coast flood relief.
Communicated with many other diocese as they have called offering assistance.
Deanery meeting was held on Wednesday, August 17 with the Bishop, Canon to the Ordinary, Diocesan Disaster Coordinator, Diocesan Communication Director, and Flood Response Coordinator and all available Baton Rouge Deanery clergy.
Diocesan staff visited Episcopal School of Baton Rouge to hear from the School Head how the school, its staff and students had fared. There has been some damage but not as extensive as feared. Classes are resuming on Monday, August 22.
Diocesan staff visited St. Francis, Denham Springs, to view damage to the property and to hear congregation and community needs. All four building received significant damage, including the church itself. 100% of the congregation has been affected.
Diocesan staff worked with Episcopal Relief and Development to obtain a tent, chairs and other items necessary to hold worship in Denham Springs for use in worship on the Sunday following the flood. This is a loan from the Episcopal Diocese of Texas who will deliver these items on Saturday, August 19. A donor has been identified for new Books of Common Prayer to replace those lost.
Parish Recovery Efforts
Priest and lay volunteers are visiting survivors in shelters to provide translation services, distribute goods, assess needs, and pass out gift cards.
Operating collection and distribution centers for goods.
Canvassing neighborhoods to determine needs.
Assembling crews to muck-out homes. In some places this work has already begun.
Operating feeding ministries to serve survivors, National Guard and other first responders.
Conducting needs assessments for congregations, staff, and school families, where applicable.
Churches outside the flood zone are partnering with churches within to adopt families and meet unmet needs.
Photographs from this past week
Clergy Meeting in Baton Rouge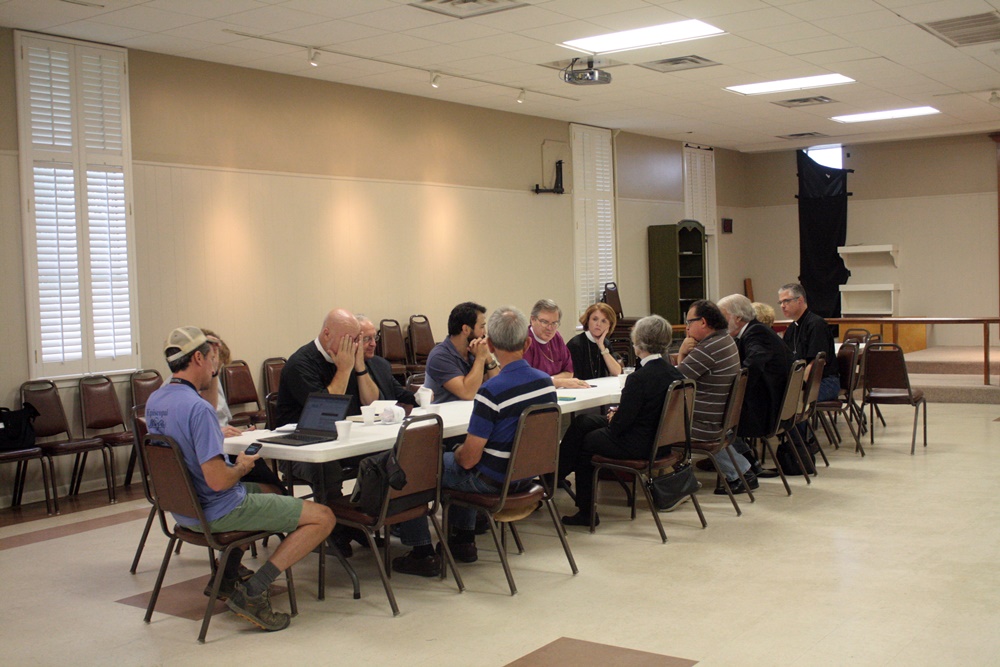 St. Francis, Denham Springs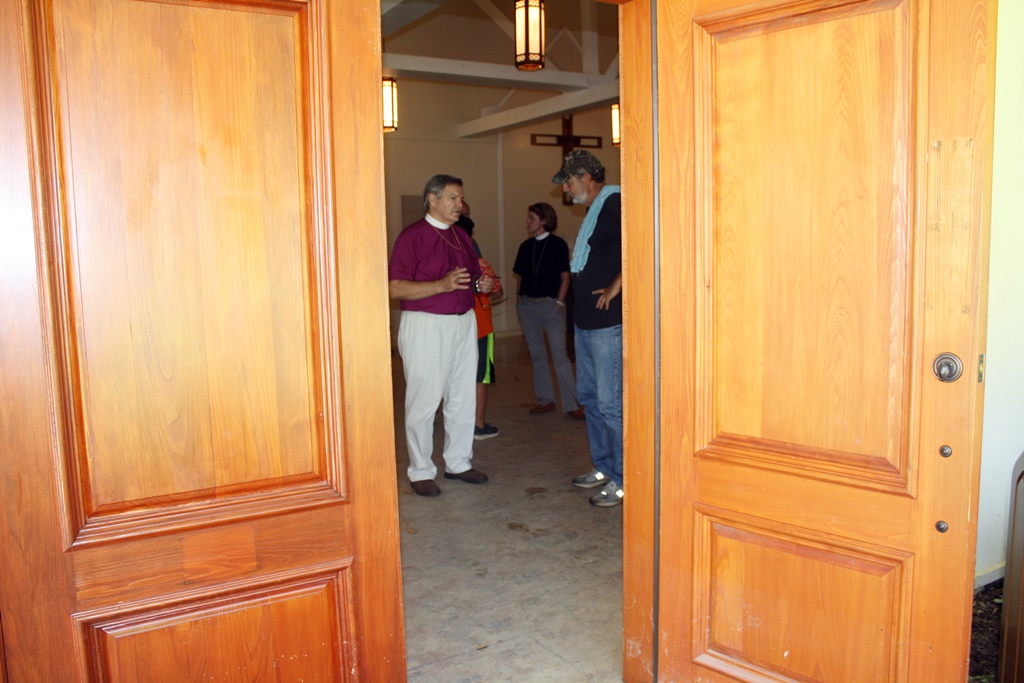 Episcopal School of Baton Rouge