182nd Convention of the Episcopal Diocese of Louisiana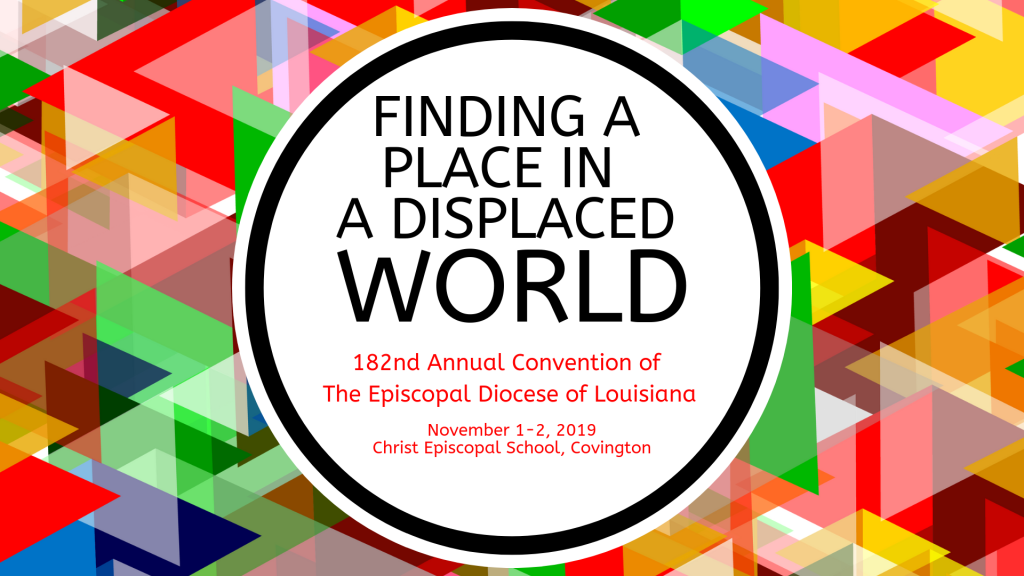 The 182nd Annual Convention of the Diocese of the Episcopal Church of Louisiana will be held November 1-2, 2019, at Christ Episcopal School, 80 Christwood Blvd, Covington.
Read the invitation to the 182nd Annual Convention from Bishop Thompson.
Click here to learn more about The Convention of the Episcopal Diocese of Louisiana and view archive pages and journals of previous Conventions.
Pre-Convention Meeting:
The Pre-Convention Meeting will be held October 8 at 6 p.m. at St. Augustine's, 3412 Haring Rd, Metairie. Delegates, clergy, and alternates should attend the pre-convention meeting in order to be best prepared for the business they will handle as members of the Convention. We will live stream the meeting. Further information to follow soon. We will also video the meeting and post on our website and Facebook page.
Click here to download Pre-Convention and budget documents.
Recording of the Pre-Convention Meeting
FYI: If you do not have any sound, be sure to click the volumn button on the video.
Due Date for Nominations, Resolutions, and Registration:
The due date for registration, nominations, and resolutions is October 1.
Click here to learn more about the offices to filled from nomination.
Holy Eucharist
Holy Eucharist will take place at 2 p.m. at Christ Episcopal School in the gym The Bishop's address will take place during Eucharist. Clergy will not vest this year, but instead will sit with their delegates. Quorum will be taken before the service begins.
Convention Workshop: Invite Welcome Connect
A free workshop will take place on Friday, November 1 during registration from 12:30 – 1:30 p.m. There is no additional cost and anyone interested is welcome to attend.
Questions:
Contact Canon Shannon Manning at smanning@edola.org or (504) 895-6634.
1623 Seventh Street
New Orleans, LA 70115
Phone: (504) 895-6634
Fax: (504) 208-3511