179th Convention of the Episcopal Diocese of Louisiana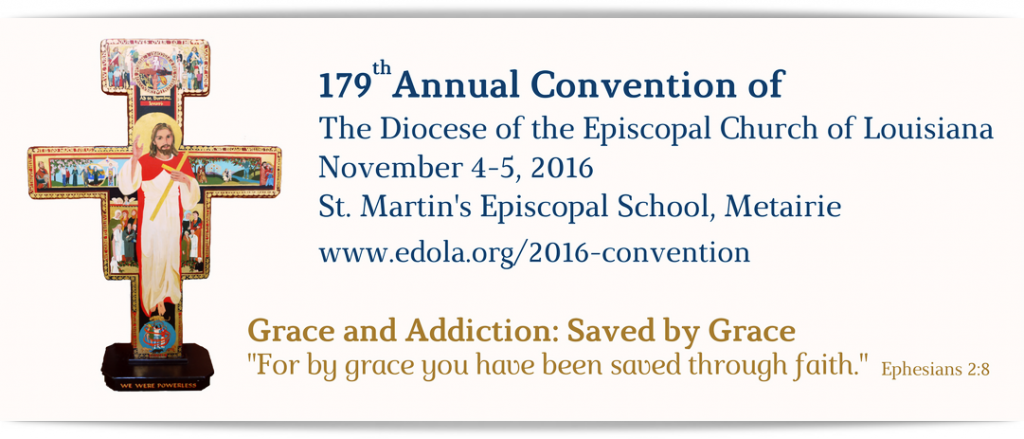 The 179th Convention of the Diocese of the Episcopal Church of Louisiana was held November 4 & 5, 2016 at St. Martin's Episcopal School, 225 Green Acres Rd, Metairie, LA.
View Photographs of the 179th Annual Convention
Read the Bishop Address to the 179th Annual Convention
Listen to the Mission Stories – Addiction Recovery Ministry
Listen to the Mission Stories – Flood Recovery in the Diocese
179th Convention Theme – Grace & Addiction: Saved by Grace
"For by grace you have been saved by faith" Ephesians 2:8
The Addictions Recovery Ministry is a specialized ministry of the Episcopal Diocese of Louisiana as well as a local affiliate of the Recovery Ministries of the National Episcopal Church. This ministry reaches out on behalf of the Church to welcome recovering people into the Episcopal community and also helps recovering Episcopalians find a home within the organized Church. The Recovery Ministry works within the diocese to provide education, guidance and support for families and parishes struggling with, or wishing to learn more about, addiction. The term "addiction" includes a relationship with any activity or substance which interferes with healthy functioning – alcohol, drugs, relationships, sex, work, gambling or food for example. Our desire is not to be dogmatic or exclude anyone in their spiritual search but to live out the acceptance and love taught by Jesus.
The Addictions Recovery Ministry (ARM) provides an avenue for exploring recovery in a Christian context in addition to other 12 Step and professional recovery programs. The ministry hosts quarterly Celebrations of Life in Recovery, monthly Eucharists incorporating the 12 Steps, and two annual recovery-oriented retreats as well as providing resources to the people and churches of the diocese.
Guest Speaker: The Rt. Rev. Porter Taylor
G. Porter Taylor served as the sixth bishop of the Episcopal Diocese of Western North Carolina from Sept. 18, 2004 – October 1, 2016. He grew up in Asheville North Carolina, earning his B.A. in English from the University of North Carolina at Chapel Hill, his M.A. in English from the University of South Carolina, and his Ph.D. in theology and literature from Emory University. He received his M.Div. from The School of Theology at Sewanee and served at St. Paul's Episcopal Church in Franklin, Tennessee.
Before his call to the Holy and Sacred Order of Bishops, he served seven years as rector of St. Gregory the Great Episcopal Church in Athens, Georgia. He is the author of To Dream as God Dreams: Sermons of Hope, Conversion, and Community, and From Anger to Zion: An Alphabet of Faith. He is married to Jo Taylor, an artist and research nurse. They have two children, Arthur & Marie.
179th Annual Convention Budget & Reports
Pre-Convention Budget Documents
2017 Budget Documents for Approval at Convention
2015 End-of -Year Unaudited Financial Documents
Annual Committee & Commission Reports
179th Annual Convention Nominations & Elections
Secretary of the Diocese
Treasurer of the Diocese
Standing Committee – Clergy
The Rev. Rob Courtney (Elected)
The Rev. Tommy Dillon
The Rev. Mitch Smith
The Rev. Edward Thompson
Standing Committee – Lay
David Cramer
Julio Figueroa (Elected)
Joel Web
Executive Board – Clergy
The Rev. John Craft (Elected)
Executive Board – Lay
Penny Dralle (Elected)
Shirley Young
Sewanee Board of Trustees
Jason Akers (Elected)
Maggie Devine
Carol Magendie
Charles Williams
Disciplinary Board – Clergy
The Rev. Stephen Crawford (Elected)
Disciplinary Board – Lay
George Bond
Thomas Forbes
Dave Foster (Elected)
Nicolle Hammill (Elected)
General Convention – Clerical Order
The Rev. Sharon Alexander (Elected – First Alternate)
The Rev. Tommy Dillon (Elected – Second Alternate)
The Very Rev. Richard Easterling (Elected Deputy)
The Very Rev. A.J. Heine (Elected Deputy)
The Rev. Harry Jenkins
The Rev. Peter Kang
Deacon Charmaine Kathman
The Rev. Doug Lasiter
The Rev. Ann Maxwell (Elected Deputy)
The Rev. Edward Thompson (Elected Deputy)
General Convention – Lay Order
Lindsey Ardrey (Elected – Deputy)
Carolyn Harris (Elected – Deputy)
Nancy Murray
John Musser (Elected – Deputy)
Freddy Perriott
Ed Starns (Elected – Deputy)
Ann Ball (Elected – First Alternate)
Resolutions
Number
Description
Purpose
Referred to
Action
R1
Approval of Trustees for The Episcopal School of Baton Rouge
To authorize the Executive Board of the Diocese to elect the persons nominated by the Bishop of the Diocese to serve on the Board of Trustees for The Episcopal School of Baton Rouge beginning in the school year 2017-18. 
Resolutions Committee
Passed
R2
Approval of Trustees for St. Martin's Episcopal School
To authorize the Executive Board of the Diocese to elect the persons nominated by the Bishop of the Diocese to serve on the Board of Trustees for St. Martin's Episcopal School beginning in the school year 2017-18. 
Resolutions Committee
Passed
R3
Ecumenical Sunday and Week of Prayer for Christian Unity
Observance of Ecumenical Sunday, January 22, 2017 and the Week of Prayer for Christian Unity, January 18-25, 2017. 
Resolutions Committee
Passed

As submitted by Constitution & Canons:
R4 

Original as submitted: 
R4

Create a Study Commission to consider Canon 22
To create a study commission to consider Canon 22 with regard to support of the Episcopacy, its mission and ministry and the mission and ministry of Ecclesiastical Units within the Diocese.
Constitution & Canons Committee

Original R4: Withdrawn 

As submitted by Constitution & Canons Committee: Passed