by the Rev. Robert Beazley, Disaster and Response Coordinator, Diocese of Louisiana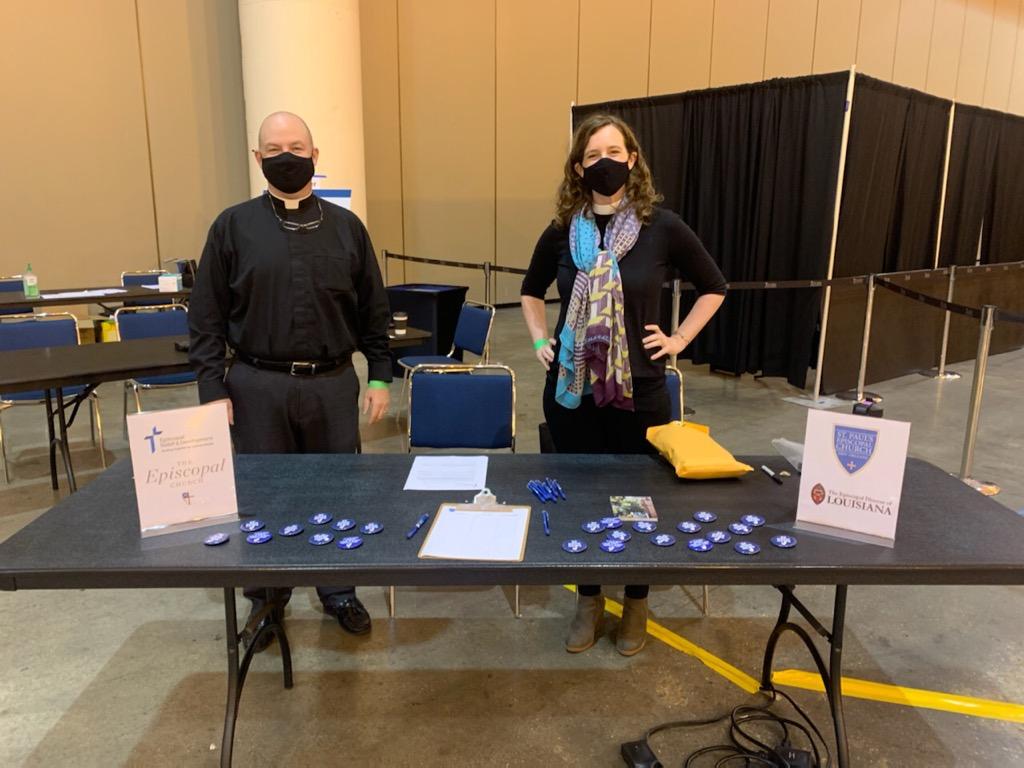 For I was hungry and you gave me food, I was thirsty and you gave me something to drink, I was a stranger and you welcomed me, I was naked and you gave me clothing, I was sick and you took care of me, I was in prison and you visited me.' Then the righteous will answer him, 'Lord, when was it that we saw you hungry and gave you food, or thirsty and gave you something to drink? (Matthew 25:35-37)
On Tuesday, August 25th, as Hurricane Laura zeroed in on southwest Louisiana and predictions of strengthening increased, Amanda and her children left her apartment and boarded an evacuation bus for an unknown location. A few hours later, she arrived in downtown New Orleans. She knew she made the right decision when Hurricane Laura made landfall that Thursday night as a Category 4 hurricane. What she didn't know and still isn't sure about, is whether or not she and her children will ever make it back.
After the storm, as the weather settled, she learned that her apartment complex was damaged beyond repair. Without a means of transportation or money to travel across the state, she's sheltering in a hotel without a next step. Communication with her landlord is difficult and sporadic. From what she's heard, the entire 24-unit apartment complex is set for demolition including every personal belonging that wasn't carried onto the bus on August 25th.
Her story was not alone. Countless others shared similar experiences on Tuesday, September 29th at the New Orleans Convention Center – a distribution and resource center for the nearly 10,000 evacuees sheltering in the area. That's when the Revs. Liz Embler-Beazley and Rob Courtney from St. Paul's Episcopal Church handed out $5,000 worth of gift cards to evacuees who continue to shelter in local hotels with little to no guidance for what to do next. The funds for the gift cards came from an Episcopal Relief & Development emergency grant. The assistance cannot solve every problem they have but it did shine a light of hope in the darkness for 50 households and some 112 individuals.
As of October 1st, there were still thousands of evacuees from southwest Louisiana sheltering in the downtown New Orleans hotels. While many churches have provided support to affected communities and local evacuees, it can still be difficult to respond to the needs of your neighbor when their needs are not apparent. Over the coming weeks, be on the lookout for bulletins for how you and your church can continue to respond to the needs of these evacuees.
Contact the Rev. Robert Beazley
---
We are grateful for all those who are responding to those in need in the Hurricane Laura affected areas of our state and we ask that you continue to pray for the safety and strength of those affected. The most impactful response for assistance is to send money. The infrastructure on the ground cannot support volunteers at this time. Monetary donations can be sent to our diocesan office or Episcopal Relief and Development for direct disbursement. Gift cards should be sent to the Diocese of Western Louisiana or donations through their online link listed below. Supporting the needs of our neighbors through monetary donations ensures their ability to respond effectively.
The Episcopal Diocese of Louisiana
1623 Seventh Street, New Orleans, LA 70115
Episcopal Relief and Development
P.O. Box 7058, Merrifield, VA 22116-7058
Online Donation
The Episcopal Diocese of Western Louisiana
PO Box 4330, Pineville, LA 71361
Online Donation