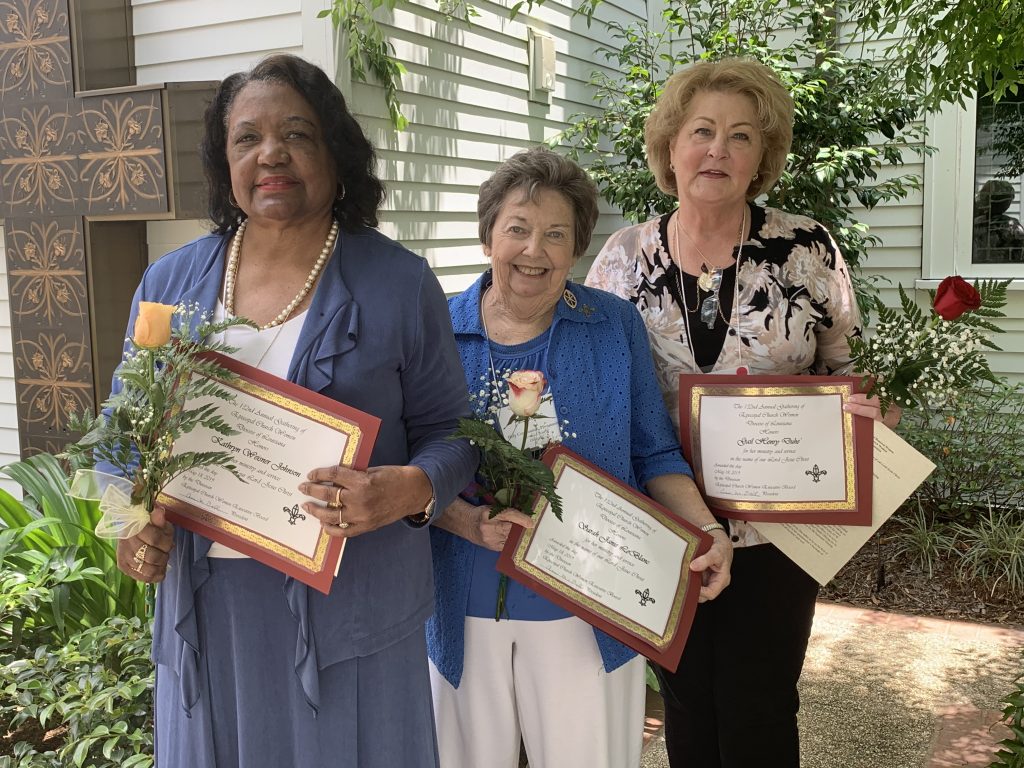 [Photograph by Katherine Gilbert] Left to right: Katheryn Johnson, Janie Leblanc, and Gail Duhe
The 23rd Presentation of Honored Women
By the Episcopal Church Women In the Diocese of Louisiana
Recognized for their ministry and service in the name of our Lord Jesus Christ
Acknowledged at the 132nd ECW Annual Gathering
May 18, 2019
St. Matthew's Episcopal Church
Houma, Louisiana
Gail Duhe
Gail Duhe has been a lifelong member of St. Matthew's Episcopal Church in Houma, Louisiana.  Mrs. Florence Henry had Gail baptized at St. Matthew's Church on November 10, 1947.  Gail was confirmed in the church on November 29,1959. and years later married her first husband.  She is married forty-four years to the love of her life, Leonard Duhe', and together they have three sons, Chad Louis, and Beau.  She has been blessed with five grandchildren.  Her son Louis was married to Abby this past September at Christ Church Cathedral in New Orleans
Gail has given of her time and talents to St. Matthew's Church and the Episcopal Diocese serving in many capacities.  She has served on the vestry twice taking on the job as Junior Warden.  She has chaired the Ushers' and Bake Sale for many years.  She was president of ECW for six years and has co-chaired many ECW fundraisers.  Gail has been a volunteer secretary in the church office, is an active member of the Altar Guild, and is currently chairing United Thank Offering for St. Matthew's.  She also co-chairs the Southwest Deanery for the Episcopal Diocese of Louisiana.
Maria DeHart, Gail's godmother, was one of the first ladies to be on the Roll of Honored Women in 1997.  Gail has followed in her godmother's footsteps of serving her church and community with all her heart and soul.
Kathryn Weisner Johnson
Kathryn Weisner Johnson was born in Karmack, Texas and graduated from George Washington Carver High School in 1957 as Valedictorian.  She matriculated at Prairie View A&M College, Prairie View, Texas, where she majored in Elementary Education with a minor in Library Science, graduating in thirty-six months, Summa Cum Laude in May 1961.  She married Clifton J. Johnson, Jr.in August 1961 and they subsequently had five sons.  After graduating from Prairie View in 1961 she moved to Houston in September to take her first job as teacher-librarian at Galena Park High School, Galena Park, Texas where she taught eighth-grade geography and was the school librarian.  Her husband went to live in Hawkins, Texas where he coached tennis and basketball and taught physical education.  After working one year in Galena Park she moved to Hawkins with her husband and their first son was born.  She was hired as school librarian at Fouke-Hawkins High School.  In 1964, after the birth of their second son, she was hired at Jarvis Christian College as head librarian and remained there until 1966 when she decided to attend graduate school at Atlanta University in Atlanta, Georgia where she earned her master's degree in Library Science in 1967.  Their third child was born in September 1967.  The family then moved to Shreveport, Louisiana where they both worked at Southern University, she as a librarian and he as tennis coach and physical education instructor.  In 1970 the family moved to Baton Rouge where her husband coached tennis and golf at Southern University, and she was school librarian at an elementary school for a short while before being hired as professor-librarian at the John B. Cade Library at Southern University where she worked for twenty-nine years retiring in September 1998.  Their last two sons were born in Baton Rouge.
Reared a Baptist, and after twenty-seven years as a Jehovah's Witness, the Lord Jesus Christ and the Holy Spirit steered her to St. Michael and All Angels Episcopal Church in Baton Rouge in 1996 where she fell in love with the time-honored ritual of the worship of Jesus Christ.
In 1996 she started attending St. Michael and All Angels Episcopal Church and was confirmed at St. Michael's in 1997.  Shortly afterward she was introduced to the ECW Diocesan Board and appointed as College Liaison by Lynette Frazier, then Board President.  She has been serving as ECW Diocesan Board College Liaison since that time, some twenty-two years, taking the position of College Liaison to the ECW Diocesan Board seriously, and as a worthy ministry, Kathryn works diligently to fulfill the duties of this position.  Her efforts garner commendations and praise from priests all over the nation and of course from the Diocesan Board.  In addition, she works faithfully in her church having served as ECW president, ECW secretary and now serves as the ECW secretary/treasurer.  She has been singing in the church choir since 1998 and has served as a Lay Eucharist Minister (LEM) since 2003.  She has served on the Vestry for two terms and is now Senior Warden helping to steer the church and keep it on its mission until the Lord calls her home.  Since the church has no priest, she does the church bulletins and conducts Morning Prayer most Sundays when no priest is available.
Janie LeBlanc
Janie LeBlanc is a lifelong Episcopalian and has a great love for the Episcopal Church of the Holy Communion in Plaquemine, Louisiana where her family are founding members.
She has been married to Jerry LeBlanc for fifty-seven years.  They have three sons, a daughter, and nine grandchildren.
Her hobbies include painting, swimming, raising quarter horses and caring for her family and friends.  She loves Grand Isle and the family camp there where many a family reunion occur.  The Grand Isle "breakfast" that she serves is legendary.  She loves Camp Waldemar in Texas where she was a first-time camper at age six and attends Women's Week every September.
Janie has served in all offices in her ECW and chairs her Altar Guild group.  She has served on the Vestry of Holy Communion both as Junior and Senior Warden.  Under her leadership, the church has seen many improvements and rarely is anything undertaken without seeking her experience and advice.
Janie and Jerry's children all attended St. James Episcopal School and Episcopal High School in Baton Rouge.  She was the President of the St. James Mothers Club; she also chaired and served on several committees at Episcopal High School.
Janie has served as President of the Diocesan ECW and continues to be an integral member of that board.
Janie is a role model not only in our church family but in our community as well.  Many of us aspire to serve the Lord as she gladly does.