On June 24, the city of New Orleans marked the forty-third anniversary of one of the deadliest fires in its history. It was an arson at the Upstairs Lounge that killed 32 people who were gathered at the bar to celebrate the end of New Orleans Pride Week and the fourth anniversary of Stonewall. The majority of those killed were members of the Metropolitan Community Church, including their pastor The Rev. Bill Larson. Up until the massacre at the Pulse Nightclub in Orlando, this was the deadliest attack on the LGBT community.
The response from the citizens of New Orleans was not kind, but one man stood up to do the right thing for those who were mourning. The Rev. William "Bill" Richardson, rector of St. George's, held a memorial service at the church. However, the backlash was severe. He received hate mail. He was publicly reprimanded by Bishop Noland. The vestry of the church voted to demand Richardson's resignation.  In response he wrote this note to the parishioners of the church: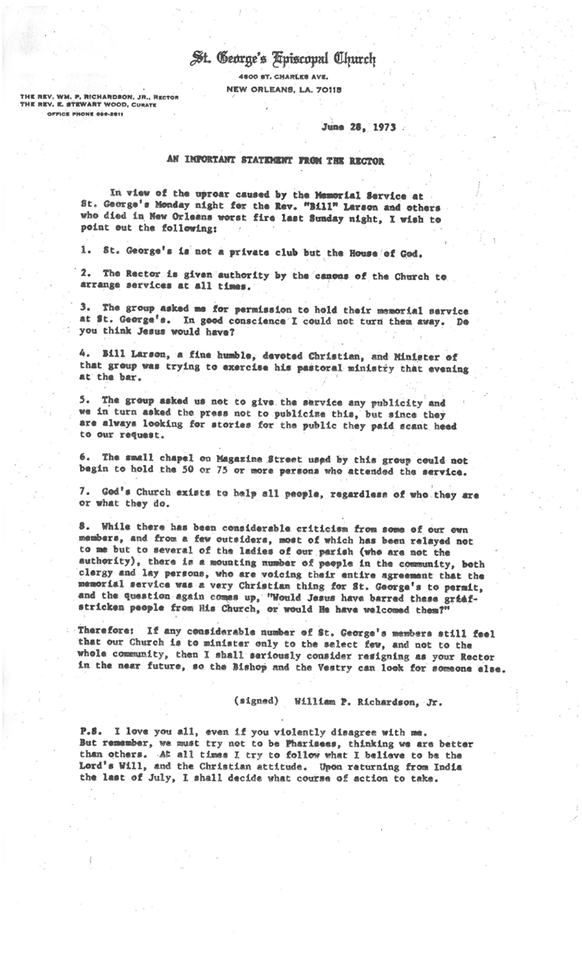 Richardson went on to serve several more years as rector. St. George's was forever changed by the actions of this mighty priest who stood up to do the right thing.
The following quote from the current rector along with the above letter was posted on the St. George's Facebook Page on June 24, 2016:
Tomorrow marks a significant anniversary for St. George's Episcopal Church. Forty-three years ago on 25 June, St. George's Rector, Fr. Bill Richardson opened the church to those grieving the loss of thirty-two people killed in the Upstair Lounge Fire. Fr. Richardson's insistence that "God's Church exists to help all people, regardless of who they are or what they do," was both courageous and visionary. At a time when every other congregation turned these poor, grief-stricken people away, Bill willingly endured criticism by some and public censure by his own Bishop in order to show the transformative power of love that God continually calls his Church to abide in. St. George's was changed for good in that gallant moment. Quietly, we continue our work of opening God's house and showing God's love to all people. We are proud of our past at St. George's. I, the current Rector, am honored to serve in the position Fr. Richardson once held. May we ever be brave in our convictions, strong in our adversities, and resolute in our proclamation that God is love.
Richard+
View the original post here: https://www.facebook.com/StGeorgeNOLA/posts/10153906062333922
A couple of interesting articles for more information: