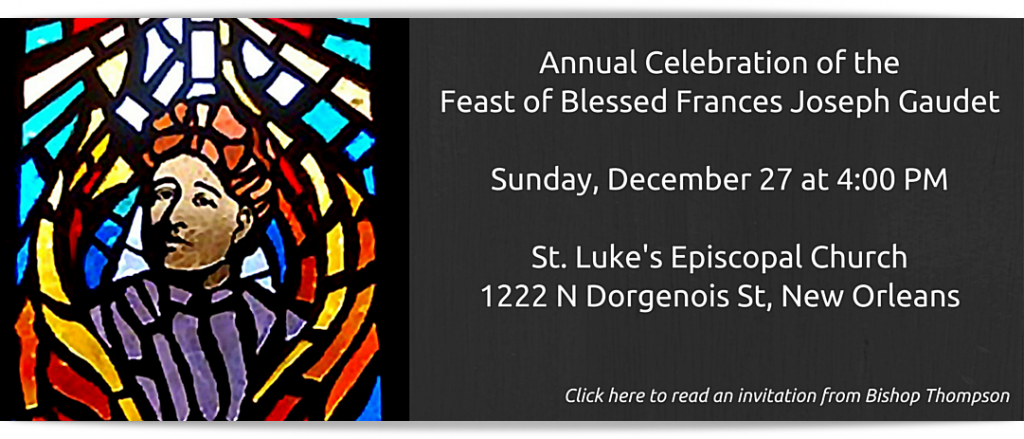 Dear Sisters and Brothers,
As we prepare to enter into the second week of Advent, I hope that you have been able to find some time for reflection and prayer. It is not lost on me how busy this season can be. Nothing about church life in December is uncomplicated. And, yet, these weeks leading up to Christmas can be spiritually rich in profound ways. I pray that you can find quality moments during this hectic time to spend with God, your family and yourself.
I also want to bring to your attention an important upcoming celebration in the life of our diocese. On Sunday, December 27 at 4:00 pm, St. Luke's Episcopal Church, New Orleans, will host their annual celebration of Blessed Frances Joseph Gaudet. The Rev'd Canon John Kellogg will officiate and the Rev'd LeBaron Taylor will preach. I am grateful to the good people of St. Luke's for hosting this service and for the many hours of hard work that they, along with members of the Racial Reconciliation Commission, have devoted to its planning.
Many of you are aware that Blessed Frances Joseph Gaudet is considered to be "Louisiana's saint." Originally from south Mississippi, Frances moved to New Orleans as a child and later dedicated her life to working on behalf of prisoners. She also founded the Gaudet Normal and Industrial School, which she gave to the diocese in 1921. Though this school closed in the 1950's, an endowment in Frances' name continues to fund scholarships and other ministries around the Diocese of Louisiana. Frances is recognized by the Episcopal Church with a feast day on December 30th and the chapel at St. Luke's was recently dedicated in her honor.
The Episcopal Diocese of Louisiana is proud to be a part of the rich legacy of Blessed Frances Joseph Gaudet.  I commend this service to each of you and your congregations and hope that you will make plans to attend this meaningful celebration.
Blessings,


The Rt. Rev. Morris K. Thompson, Jr.
Bishop of Louisiana