Candidate for the 12th Bishop of Louisiana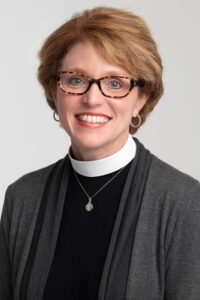 The Rev. Canon Shannon Rogers Duckworth
Canon to the Ordinary, Diocese of Louisiana
The Rev. Canon Shannon Rogers Duckworth has been elected 12th Bishop of Louisiana. Watch her acceptance speech here as she addresses the Electing Convention.
Video Introduction and Vision for the Diocese of Louisiana
What has led you to respond to this process for nomination to be the 12th Bishop of Louisiana?
Serving the Episcopal Diocese of Louisiana has been the greatest joy of my vocation and ministry. I once read that one lives differently in a place when one knows that they are going to be buried there. I am not sure who penned these words, but they resonate deeply with me and speak to the connection that I feel with the people and parishes of south Louisiana. I also strongly believe that it is important to listen to the community in which one serves. Since Bishop Thompson announced his retirement, many in this diocese have spoken to me about discerning this call. I have taken all of this to prayer, spiritual direction, and deep conversation with my family, and feel led to the process of discernment to elect the next bishop of Louisiana.
I love this diocese. Eight and a half years ago, I was called as Canon to the Ordinary and my family and I moved to Louisiana. Very quickly, Louisiana became our home. I have traveled thousands of miles, from one end of the diocese to the other, providing leadership on a daily basis to our 16,000 faithful congregants in 48 parishes and schools, as well as to over 100 dedicated clergy. In April of 2021, I married Jimmy Duckworth, a native New Orleanian, retired United States Coast Guard Commander, and current resident of New Roads, Louisiana. One day, I will be buried beneath an ancient oak tree, alongside a levee which holds back the mighty waters of the Mississippi River at St. Stephen's Episcopal Church in Pointe Coupee Parish.
The Diocese of Louisiana is a majestic place, filled with cypress trees, pecan groves, and ancient bayous that whisper tales of long ago. I relish in the beauty and diversity of Louisiana. In just a few hours, one can move from the crowded streets of our large, metropolitan cities into the peaceful tree-lined bayous and sun-soaked fields of our rural parishes. We are a diocese of both small and large parishes who together form the backbone of our Episcopal life here.
As beautiful as our diocese is, we are faced with a unique set of challenges. During my tenure as canon and under the supervision of the bishop, I have provided steady leadership through 8 major hurricanes, 4 tropical storms, and 1 historically catastrophic flood. Additionally, through the ongoing COVID-19 pandemic, I, along with a team of clergy, diocesan staff, and medical professionals, have overseen the implementation of the diocesan COVID-19 protocols, U.S. Small Business Administration PPP Loans, as well as safety and crisis response in an unprecedented and ever-changing time in our nation's history. We also watch as our coastline erodes, and our homes, churches and livelihoods are threatened. We face the realities of declining church membership and aging congregations. We confront the inevitable economic hardships that result from an ongoing pandemic, natural disasters, as well as social and political unrest. Yet, I am also deeply aware of the strength of this community and our ability to lean into the challenges that we face.
The next 10 years will be crucial in the history of the Diocese of Louisiana. My leadership uniquely qualifies me to lead us as we face this future together. You know me. You know my heart and the depth of my love for you. And, during these uncertain times, I believe that this truth, along with the gifts and joy that I would bring to this position, can lead us through this holy journey. I ask for your prayers as I pray daily for you.
Describe your passion for mission and ministry.
From the first moment that I held a torch in my hand as 12-year-old acolyte, I knew the church would become my lifelong home. Then, in 1991, I served as the thurifer at the ordination of the Rev. Beth Foose. Chills ran down my spine as I stood at the altar alongside the bishop and watched the clergy gather to lay hands on her. In that moment, the seeds of ministry took root and grew in my heart. Prayerful discernment sought out that still, small voice which has led me to this point in my ministry.
At the age of 27, a few months after my ordination to the diaconate, I met with an Episcopal priest mentor who had been ordained for many years. As I sat down in his office, I had only one question: "What is the secret to a long and successful ministry?" Without hesitation he said, "You must be their pastor. Be a part of their daily lives. Show up when they are sick. Hold their hand as they die. People will not always agree with your decisions, but as their pastor, they will trust you. And that trust will lead you through all of the highs and lows of ministry."
Be their pastor. I believe that the heart of a beloved pastor does not seek to lead, but rather listens carefully for the call to lead and then responds in love to that call. A courageous pastor will say yes and lead others to deeper relationship with Jesus. Here, now, at this place in my life is where my pastor's heart and my deep passion for ministry meet. As the first female Canon in the Episcopal Diocese of Louisiana, this role has brought me to the table of so many of the decisions that form the heart of our ministry. I have been humbled by the support of family, friends and mentors who encourage me to be my best self. The work has been diverse and challenging. It has demanded things of me that I never anticipated. With God's help, I have met those challenges and there has never been a moment when I have doubted my life-long passion for ministry.
This passion is the springboard for my love of mission, as the two are wonderfully intertwined. The Episcopal Diocese of Louisiana is ready at this moment in our history to take the next bold step, as we have so many times before. The diocesan staff, working with clergy and congregations, and under the pastoral leadership of our new bishop, will be an incubator for our new vision. Here in Louisiana, we are uniquely poised to not only make a difference in our own diocese, but we can also provide superior leadership on a national level.
Each and every day, I pray that God will use my passion for ministry to build bridges, to model Christ-like invitation, and to support entrepreneurial leadership. Throughout my 20 years of ministry, I have served in two dioceses and in widely diverse ministry settings. These experiences have honed the skills that uniquely qualify me for this position. I am actively engaged on local, diocesan and national levels. I work closely with clergy and lay people, and I strongly support those in my care. Difficult decisions must be made sometimes, but I see these moments as an opportunity to foster growth. I strive each day to use my skills to create an environment that is consistent in its values while also being open to improvement and adaptation. This is my passion for ministry, and it drives, inspires and motivates me to discern this call as the 12th bishop of the diocese of Louisiana.
One of the challenges that our denomination faces is an aging population. What are your ideas for motivating the next generation of clergy leaders?
The Episcopal Church, like many mainline denominations, faces aging populations, both with clergy and laity.  I recently read an article from Ministry Architects entitled, "They're Not Coming Back." [1] It speaks to a time when we hoped young adults would return to church after college, once they got married, or after children were born.  We look around the church on Sunday and our pews are not filled with the younger generations that we hoped would come. In addition, clergy are retiring at a rate almost four times that of those being ordained. Given these statistics, the way before us seems daunting.  However, in this challenge also resides great opportunity. Emergent models of ministry are gaining a foothold in the church and have been an ongoing focus of my ministry as Canon. Through mutual support, formation and discernment, I feel that these models will inspire clergy as well as the laity and motivate them to become the next generation of church leaders.
At a recent event I attended, hosted by the Diocese of Louisiana, clergy and lay leadership from across the province gathered to discuss this topic.  Emergent rather than traditional models of ministry comprise over 50% of new clergy positions in the national church. What this means is that far fewer clergy are attending residential seminary and accepting full time positions upon graduation. We have experienced this trend in the diocese of Louisiana as well. Our diocese relies upon part time, retired and bi-vocational priests, as well as the deaconate, to support our congregations. Churches who have embraced new models of ministry have experienced growth, but we must do more. For example, bi-vocational ministry is an avenue that individuals may not have thought possible, given career and family constraints. In my tenure as Canon, I have actively sought out and mentored those who seek ministry through these emergent models. For example, the Rev. Lynn Hooks, an educator, wife and mother, who heard the call to the priesthood later in life, was recently ordained a bi-vocational priest. She serves as a chaplain at a parish school while also providing stable leadership for two additional congregations. This priest's formation is crucial and great care has to be taken that she, and the others who follow her, are equipped for the challenges that they will face during their careers.  I have encouraged our Commission on Ministry, to continue to develop a formation process that is robust and fits our changing needs. These bi-vocational clergy will provide invaluable pastoral presence, enhanced connection to the community, and increased focus on mission in our diocese. They also bring invaluable, secular experience to their congregations. This model is an example of what I feel can help energize the next generation of leadership.
The development of lay leadership plays an equally significant role. Our laity are the backbone of our congregations.  They provide stability in the midst of uncertainty and must shoulder a myriad of roles in the absence of consistent clergy leadership. I have the highest respect for all of our wardens, and I stay in close contact with them and the parish vestries. I am always inspired by their faithfulness to the church. We have congregants who have expressed their desire to step further into their ministries as lay preachers and teachers. This is an innovative and new initiative, and I have already begun conversations with Episcopal seminaries as well as our diocesan leadership on the design and implementation of a training program for our laity.
The 48 parishes of the Diocese of Louisiana, and the clergy and lay people who comprise them, inspire me. The pandemic has taught us that we are flexible and innovative. The office of the bishop plays an important role in recruiting, encouraging and supporting these emergent models for clergy as well as enhanced formation opportunities for our laity.  Even in these challenging times, the Holy Spirit is at work in our midst.  My goal for this diocese is that we all become re-energized in our current roles in the church with an eye towards new, collaborative models that will bring vitality and growth to our congregations and clergy.
[1] Ministry Architects. www.ministryarchitects.com. September 8, 2021.
Almost two years have been spent in struggles with the COVID pandemic and the many social, political, and economic challenges it brought to the forefront. How have you fostered unity among individuals of differing values and diverse opinions? Where do you see hope springing forward in the Episcopal Church?
"Isn't it amazing that we are all made in God's image, and yet there is so much diversity among his people?" -Archbishop Desmond Tutu
This quote speaks to the heart of how I strive to build unity in our congregations. As Episcopalians, one of our greatest strengths is that on Sunday morning, our pews fill with congregants who hail from a variety of social, political and economic backgrounds. We gather at a common table, and we are at our best when we celebrate our unity.  We are stronger people when we listen patiently and hear one another, despite our differences. Doing so always builds a stronger, and more unified church. As Canon to the Ordinary, I have worked tirelessly to foster unity within parish vestries for over 8 ½ years. I have assisted them with difficult and contentious issues. I have walked hand in hand with congregations to overcome fire, floods, storms, and disappointment. My daily work with a myriad of individuals and organizations across the church have given me tremendous experience and skill in addressing the needs of the diocese. I am accessible, I listen, I advocate, and I lead. As Canon, I participate in conversations that address social and political differences. I sit at the table with senior wardens and national church leaders and support new models of ministry. I encourage church leadership to discern their strengths and to use them as they seek new ways to minister on behalf of Christ in this ever-changing world.
In my role as search consultant for the diocese of Louisiana, I have successfully led over 24 clergy searches. Each search process is entirely unique. Conflict, grief, distrust, excitement and hope are all a part of these conversations.  I have helped to build bridges between vestries, search committees and communicants. I teach those engaged in the process that unity does not always mean that we will agree. Disagreement is a natural occurrence, but it can lead to creativity and new ideas if skillfully mediated. My role as a search consultant is both as a mentor and a pathfinder as congregations develop a vision for their leadership. If a search process is successful, not only does a congregation call their next priest, but they also learn invaluable lessons about themselves through reflection, prayer and self-study.
I have hope that in the midst of a great deal of transition in our own diocese, while wrestling with the effects of the ongoing pandemic, climate change, as well as our nation's civil and political upheaval, the Episcopal Church has an important voice. The church's long history has proven that we will find our way through these challenging times. We have endured numerous hardships and storms, and there will be more to come. Yet, our abiding resiliency, rooted in the strength of a loving God, gives us not only a unique perspective, but also the determination to move forward. The prospect of this journey with you both excites and inspires me. My past leadership and performance have proven that I have the skills to lead this diocese into a bold and exciting future.

1623 Seventh Street
New Orleans, LA 70115
Phone: (504) 895-6634
Fax: (504) 208-3511
Copyright ©2022 |  The Diocese of the Episcopal Church of Louisiana