Candidate for the 12th Bishop of Louisiana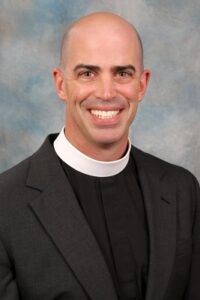 The Rev. Frederick DuMontier Devall IV
Rector, St. Martin's Episcopal Church, Metairie
Video Introduction and Vision for the Diocese of Louisiana
What has led you to respond to this process for nomination to be the 12th Bishop of Louisiana?
In short, the sense of a call to ministry expressed by the Holy Spirit through prayer and reflection and reinforced by the prodding and encouragement of laity and clergy colleagues in Louisiana and throughout the church. The episcopacy in general has been something I have been in discernment about for more than a decade. In 2010, I was on the slate for the Diocese of East Tennessee, finishing second in the balloting. Not being elected was difficult in the moment, but at the same time it was encouraging to have been a strong candidate.
Over the years colleagues have spoken with me about being nominated in other dioceses. I had a few preliminary conversations with various search and nominating committees, but discussions really did not go very far. I did not sense a call to uproot our family. Now, as empty nesters, when moving somewhere else is a possibility, it is not really something Lisa or I desire. Except for college and seminary, Louisiana has been my home. Lisa and I have shared twenty-five years of married life and ordained ministry here. We raised our children here. That deep connection with people, place, and culture undergirds a particular call to the episcopacy at this time and in this place.
We have incredible challenges ahead of us. It will require new approaches and new ways of thinking and being. Louisianians are known better for cherishing traditions, not ridding ourselves of them. Moving forward together in a fashion that acknowledges but also questions our traditions and history is going to require a trusted leader who knows and loves the people of our diocese and state, one who can speak to people of differing backgrounds, be they urban, suburban, small town, and country. I believe I can be that trusted leader who has a solid relationship with the people of our diocese to engender their trust to step out in faith as we seek to be the church in 21st century Louisiana.
Describe your passion for mission and ministry.
Over the course of my life, I have had several intense encounters with God, all of which I believe to have been markers guiding me towards the Christian life as an ordained person. When I was five years old my grandfather, the son of an Episcopal priest and active lay person, would talk about "the call". From Camp Hardtner to college life, ordained ministry was always somewhere in my mind, but it seemed a distant possibility. That changed one day while driving on I-85 between Atlanta and Montgomery, AL.
Although alone in my car, I began to sense that someone else was with me. The feeling was so strong I even looked over my shoulder in the backseat to make sure no one else was in the vehicle. Out of nowhere a question welled up within me, and I asked, "Am I to be a priest in your church?" With that came an overwhelming sense of affirmation. After a period of time, I "came to" and found myself driving south on I-85.
Less than a year later, as I was taking active steps to enter the ordination process, my father took his own life. As devastating as that event was to our family, I also was a firsthand recipient of and witness to the ministry of the church, largely through the pastoral care of the late Rev. William Barnwell. That love confirmed that this was the life I was called to lead.
Being with people at their lowest and worst moments is a privilege. It is difficult, no question, but it is a role I accept because I know what a difference it makes. Being there produces a strange joy. That may seem odd, but that joy is a product of love and sense that God is there with us every step of the way.
On the happier side of pastoral ministry is preparation for baptisms, confirmations, and marriages, to say nothing of the magnificence of marking someone "as Christ's own forever" or tying the marriage knot with my stole and pronouncing a couple to be married, followed by bestowing the church's blessing upon their new life.
My own experiences lead me to want to share what I treasure about the church- language to speak about God, being in community with other folks I might not otherwise know but for the church, and seeking the common good through outreach and service.
Over the years I have befriended numerous community members in stores, coffee shops, and restaurants as a means of building bridges to the wider community. It helps to be able to say, "We're the church with the Pumpkin Patch". They all know the patch! Although we are in a neighborhood dominated by two very large Roman Catholic parishes, folks know who and where we are through consistent presence and ministry with our neighbors. I would like to bring that passion to bear in the work of our diocese as we know and love our neighbors throughout Louisiana.
One of the challenges that our denomination faces is an aging population. What are your ideas for motivating the next generation of clergy leaders?
The next generation of clergy leaders want to engage real-world problems in tangible ways. Forming a new committee and talking about (and around) an issue is not going to inspire them to be part of the church in Louisiana. If, however, they see a diocese in the church where the bishop is leading on some issues and being a cheerleader for others who are leading in different areas, that would be noteworthy. Actively living out the baptismal covenant in word and deed reflects an authenticity that is motivating.
Because of my passion for stewardship of Creation, I can speak directly to the toll that climate change has already taken on our state. We know we have already lost hundreds of square miles of land to subsidence, erosion, and destructive practices, to say nothing of the on-going threat of sea-level rise and likelihood of increased hurricane frequency and intensity. Living through these challenges has led me to the Doctor of Ministry in Preaching program at the School of Theology at The University of the South in Sewanee, TN. I have completed my four years of classes (two each summer for four summers) and am now writing my thesis, "Preaching through the Prolonged Climate Crisis" with an emphasis on the imminent danger facing Louisiana.
Young clergy and laity understand that climate change is real and accelerating. They understand the necessity of holding the global temperature rise to 1.5 degrees Celsius. They also understand that this crisis impacts everyone but is disproportionately borne by the poor and marginalized people of our state. Expressing the link between climate change and ecological justice as an expression of our Baptismal Covenant is language that gives us credibility.
While I feel a call to speak out on this particular issue, there are other obvious social justice issues that deserve the church's attention and leadership. The tone of such action is clear- the church needs to be present in the world, not shrink back from it.
One of the ways we can get clergy and laity working together in the world is to leverage our diocesan conventions. What if a convention theme of "Prison Ministry" or "Hunger" or "Homelessness", all of which are addressed in Matthew 25, was presented in such a way as to invite each congregation of the diocese to wrestle with and discern a response to that issue in their own setting? I suspect we would hear from some that are already engaged in this work, we would see the "aha" of others as they waded into these complex matters, and we would also begin to see collaboration among the various entities of our diocese. Then imagine the reports back to convention the following year. We would have something to celebrate. Such a shared venture would awaken in us something that has been lacking, a sense of true collegiality in ministry with fellow clergy and laity.
I also believe clergy would appreciate more time getting to know their bishop. The Clergy Conference is a good start, but we can expand the ways we build collegiality. As bishop I could see myself having lunch two or three times a week with clergy in groups of twos or threes or individual coffee visits. I also have strong interest in exploring "residency" in a congregation during the seasons of Advent and Lent. From a previous response, you know my love of connecting with people in pastoral settings. As a bishop, that changes due to transiency in locations from week to week, but I think a mutually beneficial approach could be for the bishop to spend Advent and/or Lent in one congregation. Residency can provide a way to know one another that is different from the way most people experience their bishop- for one hour per year at a confirmation.
A bishop should be the chief listener. Part of the vocation of a bishop is to ensure all voices are heard and to be a voice for those who have none. Young clergy are motivated when their voices are heard and matter. After listening and praying, the bishop's task is to connect their passions and gifts so they intersect with the needs of the community and the world.
Almost two years have been spent in struggles with the COVID pandemic and the many social, political, and economic challenges it brought to the forefront. How have you fostered unity among individuals of differing values and diverse opinions? Where do you see hope springing forward in the Episcopal Church?
St. Martin's Church in Metairie is a congregation that is equally divided between conservatives and progressives with most falling somewhere in the center. When I came to St. Martin's in 2004, it was on the heels of the consecration of Gene Robinson as Bishop of New Hampshire. As a clergy deputy of the 2003 General Convention, I had voted in favor of approving his election. The Vestry was nervous that calling me would cause division in the parish, but that did not happen. Conformity around difficult issues did not keep us engaged; it was our shared life in Christ as a Eucharistic Community.
I learned a deep truth in my time as curate at St. Luke's Church in Baton Rouge- the Eucharist is the symbol of unity in the Episcopal Church. Of course, I had learned this statement of doctrine at a much earlier time in life, but it was at St. Luke's that this truth became manifest in a deep and abiding manner. I was not theologically conservative and was vocal of my support for women and the LGBTQ community in ordained ministry, both verboten at that time in that parish. Yet, those people, many of whom disagreed with me, loved me, and formed me and shaped me into being a priest. It was through the language of Eucharistic unity that we were able to be in relationship. Bishop Charles Jenkins, who was my rector at that time, remained a close friend right up until his death. Had that relationship been dependent upon anything other than the Eucharist, I doubt it would have flowered, but it did. I have carried that lesson with me since.
I still believe that this possibility exists in the Episcopal Church. People of different opinions can not only tolerate one another; we can love each other! No longer are we debating the role of women or LGBTQ persons in the life and ministry of the church, but the tension between progressives and conservatives continues to this day as we wrestle with other important topics like race, history, and public health. Yet, the vehicle for community building is not conformity around cultural issues; it is Holy Communion. I have and will continue to preach that our unity in Christ allows us to have the difficult conversations around topics that COVID has uncovered and/or magnified. The disparities we see were there all along, but we were blind to them. Louisiana Episcopalians learned this lesson firsthand in the wake of Hurricane Katrina in 2005. We see that same thing happening again now with COVID. COVID seem to accelerate time and trends that were already happening.
Most of our difficult conversations at St. Martin's have taken place in our adult education program known as "Pray/Learn". We begin with the Eucharist followed by a time for discussion of whatever book we are reading together. During COVID we have read Love Is the Way by Michael Curry, Life of a Klansman by Edward Ball and Year of Wonders by Geraldine Brooks. These books have raised many parallels to the situations we find ourselves in today. As a Eucharistic community, we have been able to walk together through some tough times.
Hope springs forth for me in that many people are beginning to awaken to the understanding that we must stop moving away from others and start walking towards each other again. Presiding Bishop Michael Curry has spoken to this in speeches, sermons, and writings. I agree with him that the church can either be another divisive institution in a country full of partisan institutions or we can be a force for bringing people together. Jesus tells us and shows us there is a different way to live. The church knows this intellectually, and I believe it is beginning to make that long journey from the head to the heart to live out this truth. That gives me hope.

1623 Seventh Street
New Orleans, LA 70115
Phone: (504) 895-6634
Fax: (504) 208-3511
Copyright ©2022 |  The Diocese of the Episcopal Church of Louisiana